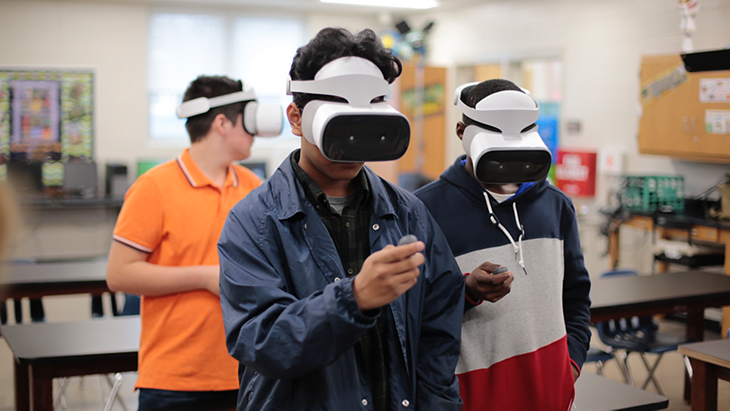 Students are being transported to new worlds thanks to Lenovo's VR Classrooms
Lenovo's virtual reality (VR) technology is transforming the way students learn, with over 500 classrooms across the United States, United Kingdom and several other countries being transformed into a Lenovo Virtual Reality Classroom.
The Lenovo VR setup combines hardware, software and content to equip teachers with all the tools needed for truly immersive learning. Thankfully, educators won't just be left alone to navigate all of the equipment, as each kit includes Lenovo 300e Chromebooks, a Ruckus R510 Access Point for fast Wi-Fi, a Google Expeditions app with more than 1,000 virtual field trips, Wild Immersion videos supported by Jane Goodall and 10 custom lesson plans.
The virtual reality headsets all come equipped with WorldSense™ motion tracking with 110° field view, a hand controller for interactivity and sanitizable head cushions.
Putting on this headset will transport students to thousands of locales – from the Sahara Desert to the surface of Mars. This adds a whole other level of engagement and excitement for the subject at hand, which is an invaluable asset for educators who have only ever had to rely on the standard tools for their lesson plans.
Future workers must know their way around advanced technology. Learning to operate within augmented and virtual realities is the first step for these students' crucial, and ongoing, technical educations. As a result of these VR classrooms, students will be able to gain these  technological skills that will be required of them in contemporary workforce settings.
Studies have shown that immersion leads to engagement, which leads to knowledge retention. With so much information packed into a  classroom, students are easily overwhelmed, their focus tested. Virtual reality is helping ease these challenges that schools, universities, colleges and others face.
Now students are able to fully immerse themselves into their learning, observing the subject in action and within context, studying the subject by virtually living it.
The possibilities are endless. A topic on nutrition? Take a VR field-trip in the digestive tract. A lesson on the sun? Enhance it with a quick stroll through the Milky Way.